The Global Business and Technology Association (GBATA) has partnered with The Economist on their upcoming event, The World in 2014. This conference will take place on December 5th in New York City and brings together the biggest names in business, finance, technology, and policy to make predictions about the year ahead and offer attendees high-level analysis about the world today.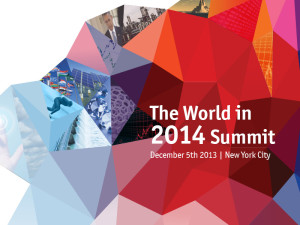 This year's speakers include:
Henry Kissinger, Founder and chairman of Kissinger Associates
Biz Stone, Co-founder of Twitter
Beatriz Perez, Chief sustainability officer of The Coca-Cola Company
Martin Giles, U.S. technology correspondent for The Economist
Angela Ahrendts, Chief executive of Burberry
David Abney, Chief operating officer of UPS
Luis von Ahn, Founder and chief executive of reCAPTCHA and Duolingo
Josef Ackermann, Former chief executive of Deutsche Bank
Gerald Hassel, Chairman and chief executive of The Bank of New York Mellon
GBATA members who register here for this event receive a 20% discount on tickets. Use promo code EMPMPGBT when registering.
Prepare your business for what's ahead in 2014. As social, political, and economic trends cause dramatic shifts in both the U.S. and globally, decision makers must be more aware than ever about the impact these changes could have on business. From political and economic risk to changing consumer behavior to international expansion opportunities, this one day event will provide you with the insight you need to succeed in 2014.
SAVE 20% on your ticket and register with our code, EMPMPGBT
For more information, visit worldin.economist.com.